I have realized the only real diet that works for me is counting calories. I am very much a visual person so I love to write things down and be able to go back and look at. If you have ever used the My Fitness Pal phone app, then you know how awesome it really is. This app allows you to keep track of your daily intake of food. You can set a goal of how many calories you want to consume and then input food in which tells you the amount of calories it has in it. Lately I have been sticking around 1500...I try and eat around 1200 though just because I know I will see more results that way.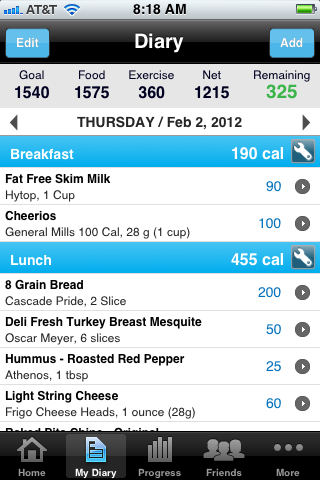 Counting calories has also made me so much more aware of how many calories are in food or the actual suggested servings sizes. I realize how much I was over eating. I have been doing this for 2 weeks and have already lost 10 lbs. It's a great thing to have to work toward because seeing one less pound on the scale is so worth not engorging myself in chocolate ice cream the night before (which has been oh so tempting). Do you use this app? What types of "dieting" methods work for you?
**Also- I need 2 more people who want to join the children's book exchange. All you need to do is buy 1 book and you will get 36! Email me Dianawinksmith at gmail dot com to be apart of it!!